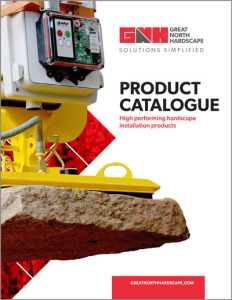 Our New
Great North Hardscape Catalogue
Is Here!
Please fill out the form below
to receive our most current Product Catalogue.
Great North Hardscape (div. of Snapedge Canada Ltd) is, fundamentally, a high performance hardscape accessory company. We provide innovative and practical landscape and hardscape solutions that are forward thinking. Whether you're sourcing for your own use or a new profit centre, our products are an essential part of any hardscaping business.
Great North manufacturers its own premium line of industry-related products and rounds out its wholesale offering by supplying other complementary goods. We provide a wide range of high quality products from commercial-only to consumer-friendly. We love innovation.
A 100% Canadian-owned company, Great North Hardscape is a preferred supplier to multi-national paving stone producers, independent hardscape centres, retail indoor and outdoor garden centres, building supply yards, municipalities, landscapers and web merchants. 
Let us know if we can help!