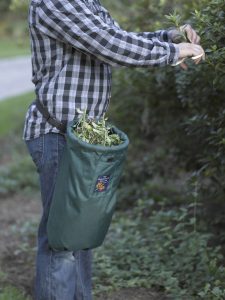 Convenient – it's right where you need it all the time.
Efficient – no more extra steps in the yard cleanup process.
Handy – provides an adjustable belt that will accommodate your clipper holster; there's a pocket for your cell phone or iPod, too.
Comfortable – the adjustable belt expands from 30 to 52 inches.
Practical – allows you to use both hands all the time.
Compact design – the opening is approximately 10" in diameter and the bag is 23" deep; it holds more than five gallons!
Easy to use – the patented* ring opening makes depositing clippings into the bag easy – and a cinch to empty too.
Ergonomic – it keeps the weight on your legs, not on your neck or shoulders; it's more comfortable when fruit or vegetable harvesting.