Deeply Enhances Surface Tone with Satin Finish
Protects Surface by Resisting Water, Stains & Salt
Promotes Easier Cleaning & Maintenance
Low VOC Formula
Breathable, Immediate Application Water Based Sealer
SB-6000 Wet Look Sealer is a proprietary water-based, modified latex, exterior quality sealer. SB-6000 will seal and enhance the beauty of new and old surfaces with a luxurious, wet look sheen with pronounced color enhancement and satin finish. It is breathable and will not trap naturally occurring efflorescence, allowing it to be applied immediately after new paving stones are installed. SB-6000 improves surface durability and freeze-thaw resistance while protecting the surface from salt, acid and staining. It exceeds all VOC, EPA and OSHA standards. SB-6000 Wet Look Sealer has the consistency of water and is milky white when applied; it dries to a clear, wet look on the surface of the pavement. SB-6000 Wet Look sealer can be used both inside and outside on old and new pavements. Cured sealer is freeze resistant to -60°F (-51°C) and is stable up to a temperature of 180°F (82°C).
Suitable Surfaces
Ideal for concrete and clay pavers, flat and stamped concrete, or natural and manufactured stone. Also suitable for masonry, retaining walls, porous or unglazed tile and terrazzo. Not recommended for marble, granite or ceramic tile.
A test area is always recommended to determine product suitability and compatibility with your specific surface before use and also if desired results are achievable.  Due to the inherent variabilitity of natural stone and clay products, long term performance may vary. Please consult with us prior to sealing if there are concerns.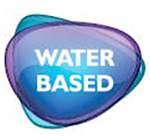 Also Available in 5 Gallon Pails